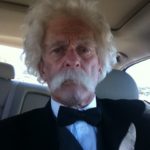 Make your event remarkable and memorable. This unique event speaker relates your business challenges to the work of Mark Twain.
Nationally known for his impersonation of America's most relatable and quoted author, Alan Kitty combines the Art of Twain with practical business experience to deliver memorable content for your team-building or special event. It is a break from the norm that relaxes, entertains and indelibly informs your audience. If you prefer, Kitty will work with your content producer to frame your message with Twain's humor and style. Either way, Kitty's portrayal of Mark Twain is so realistic, your colleagues will swear they have been visited by Twain himself.
Click a topic below for a description of some recent events and client testimonials (letters on request).
---
If you want to do something different for a coming event, give us some details on the form below. We'll review it and get back to you.