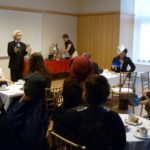 One of the best ways to understand a Society's Culture is through its Literature. But we can't fully appreciate the literature without knowing the author. Our Mark Twain lecture series is for anyone who wants to gain a deeper understanding of the man, his works and his times.
The following lectures are offered through our continuing education partners or online. Each lecture runs 45 minutes and is followed by a Q&A.
MARK TWAIN: A Brutally Brief Biography
BEING MARK TWAIN: How to be Famous Without Any Effort
THE COMEDY AND TRAGEDY OF MARK TWAIN
MARK TWAIN'S THEMES: An Examination of Twain's Writing and Performing Processes and Major Themes
MARK TWAIN'S CHARACTERS: Painted from Life (in vivid rural color)
MARK TWAIN IN BUSINESS: The Idiot's Guide to Chasing Rainbows
THE PLAYS OF MARK TWAIN
LIVING WITH MARK TWAIN: A Family's-eye View of Samuel Clemens
THE POLITICS OF MARK TWAIN
RELIGION ACCORDING TO MARK TWAIN
Please complete the form. We will contact you to discuss details.