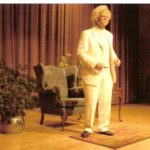 Mark Twain has been in our consciousness for a century and a half. Alan Kitty has been impersonating him since 1979 across 22 states. His remarkable appearances have enthralled audiences around the nation.
THEATRE PRODUCTION: We have produced several variations of 45-90 minute touring entertainments that feature the humor of Mark Twain. Like everyone else in the Gig Economy, our season has been canceled with the coming of COVID-19, but we will resume production as soon as health concerns allow. In the meantime, we are planning to release some of our content as virtual presentations. Meanwhile, enjoy the trailer:
FOR SCHOOLS: We help teachers create a lesson plan designed to produce an in-depth understanding of Twain, his work and his times. Suited to  English, History, or Theatre curricula, our goal is to deliver Standards-compliant, fun and enlightening programs that stand alone or work with our lecture series.
FOR CONTINUING EDUCATION PROGRAMS: Our performances provide a physical connection to Twain that inspires further reading of his works. The performance content changes constantly, making this ever-popular program a must-have. A Q&A follows each appearance.
Shows *
Mark Twain's Last Stand Original one man show (45-90 minutes)
Being Mark Twain This original Twain-inspired one-man show reflects on how a desire for fame led to something more fulfilling. Two characters: Kitty and Twain (60 minutes)
The Yesterday Show with Mark Twain An interview with 19th Century Celebrities. Two characters, – 20 to 30 minutes
Brutally Brief Biography of Mark Twain A fast-paced autobiography of Mark Twain – 60 minutes
Frontier Tales Collected Stories and anecdotes from Twain's early period (1861-1867) – 45-60 minutes
The Hartford Years Family Life (1871-91) – 45-60 minutes
Stories for Young Audiences A collection of improvised stories with audience participation -K-3 audiences – 40 minutes
Interested in a private performance for your group? Submit the form below and let's talk about it.
---
*  All times are adjustable to accommodate the audience.