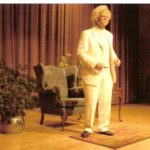 Forty years of research, hundreds of Off-Broadway and  tour engagements, and many hours of material have informed Kitty's remarkable performances as Mark Twain. And our lecture series enhances any English, History, or Theatre curriculum.  Standards-compliant, fun and enlightening, every program includes a question and answer segment that makes each appearance a unique product of audience interaction.
---
Performance Details
Programs presented by Mark Twain Impersonator Alan Kitty introduce Mark Twain as a humorist, author, philosopher inspire and inform audiences of all ages.
Shows *
Mark Twain's Last Stand: Original one man show (45-90 minutes,
Being Mark Twain: This original theatrical piece explores the influence of a desire for fame and becoming one's "true and honest" self. Two characters: Kitty and Twain (60 minutes)
Conversations with Old Friends: Mark Twain talks with 19th Century Celebrities – 20 to 30 minutes
Brutally Brief Biography of Mark Twain: A fast-paced overview of Twain's Life, Works and Times – 60 minutes
Frontier Tales: Collected Stories and anecdotes from Twain's early period (1861-1867) – 45-60 minutes
The Hartford Years: Twain's Family Life, Works and Times (1867-91) – 45-60 minutes
Latter Day Twain: Religion, Politics and Late Works (1891-1906) – 45-60 minutes
Stories for Young Audiences (a collection or improvised with audience participation) -K-3 audiences – 40 minutes
---
*  All times are adjustable to accommodate the audience.