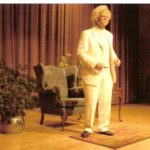 Forty years of research, hundreds of performances Off-Broadway and on tour, and many hours of material are just the starting point for Historical Interpreter Alan Kitty's remarkable performances as Mark Twain. He is the perfect speaker for supplemental Education lectures, Storytelling, and Performances for School English, Writing, History, and Theatre Classes or Assemblies, Clubs, Groups and Theatrical Productions. Programs begin with scripted material from Twain's collected works, speeches, essays, letters and autobiographical works. Then students are invited to ask questions about Twain's life and times. Standards-compliant. Fun, Refreshing and Enlightening.
---
Performance Details
The Spirit of Giving
(A film by Gregorio Baldwin Productions for The United Way of Hartford)
Make-up Notes
Prosthetics (nose, cheek and neck) were originally designed and molds sculpted by academy-award winner Bob O'Bradovitch (for Caliban, with Richard Burton).
Hair (wig, mustache and eyebrows) originally by Bob Kelly. Originally made for The Carol Burnett Show and worn by Tim Conway
Costume Notes
White suit custom of light flannel material from photographs of the original made for Mark Twain in 1906.
Stage Shows
Costumes by The Old Frontier Clothing Company
Prosthetics sculpted and cast by Alan Kitty
Makeup by Ariele Tolke
Directed by Charles Messina
Set Design by Pamela Cotting-Kitty
Shows *
Mark Twain's Last Stand: Runs 45-90 minutes, depending on the audience. And its different every time you see it
Being Mark Twain – And Sammy Makes Three Theatrical piece with three characters: Clemens, Twain and Kitty – 90 minutes
Conversations with Old Friends: Twain talks with 19th Century Celebrities – 20 to 30 minutes
Frontier Tales: Collected Stories and anecdotes from Twain's early period (1861-1867) – 20 to 90 minutes
The Hartford Years: Family Life, Stories from the Road and Novels (1867-89) – 20 to 90 minutes
Latter Day Twain: Religion, Politics and Late period works (1889-1906) – 10 to 90 minutes
Lying and Morals: One of his favorite subjects for all ages: 35 minutes
Stories for Young Audiences (from Twain's collection or improvised with audience participation) – K-3 audiences
---
*  All times are adjustable to accommodate the audience.